Commercial and Corporate Doors
A & T Doors specialise in the fitting, maintenance, and the repairing of commercial doors. We have a team of highly trained and expert door fitters of automatic sliding and swinging doors. As well as a wide range of door designs to choose from, we can install the ideal shop front to go with your commercial property.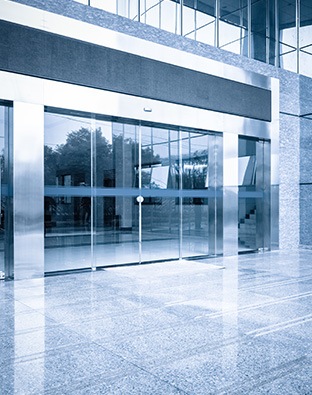 Automatic Sliding Doors
Our company provide automatic sliding doors to the likes of bank branches, high street shops, shopping centres, office complexes as well as hospitals not to mention everything else in-between. We offer a wide range of hardworking and well designed automatic system are intended to withstand high usage and all types of adverse weather conditions.
Automatic Swing Doors
At A & T Doors we have a long history of designing, making and then installing reliable automatic swing doors. Swing doors are used in a variety of situations and generally are the widest opening doors found in most buildings, and tend to work effectively wherever they have been fitted. Swing doors can be supplied in automatic or manual format, working well as external or internal doors.
Low Energy Doors
To comply with the Equality Act, many commercial and workplaces opt to have low energy doors. These are are an ideal option if premises need to have assisted entry. These doors use less energy in order to openly slowly. Lower amounts of kinetic energy make this type of door a safe option for users with lower mobility.
Manual Doors
Aside from fitting and maintaining doors, A & T Doors repair a wide variety of manual, pedestrian operated doors. We have an unbelievable range of manual doors, and at A & T Doors we have the experienced staff to fit and repair any type we sell. We have an unrivalled selection of spare parts meaning we can repair all automatic and manual doors.