Summary of the British Standard BS7036
Posted by:
Admin
Tags:
Posted date:
17-01-2019
For safety, BS7036:1996 Summary of the British Standard provides guidance and recommendations on general safety at powered pedestrian door use.
The definition of terminologies used in other parts is found in this part. Guidance and general safety requirements are also provided in this part of Summary of the British Standard:

Responsibilities of the Specificier
The person specifying the type of door to be used must ensure that installation conforms with the emphasised procedures. These responsibilities are set out in the specification stage. The expected volume of traffic must be spelt out by the specifier by carrying out Risk Assessment and full Hazard Analysis. When planning an installation, the specifier shall consult with Automatic Door experts.
Traffic flow
The specifier should carefully plan to avoid congestion in the vicinity of the Automatic Door. The key things to be taken into account by the specifier are traffic flow, obstructions, and distractions.
Acceptance of the Site and Installation
For the installation process, trained engineers must be involved. A checklist must also be completed by an approved technician. For record purposes, a copy of the checklist should be kept by the specifier or building owner.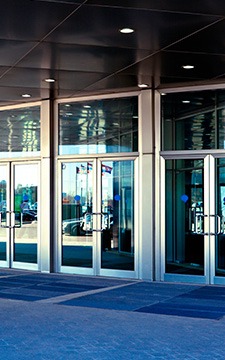 Maintenance and inspection
Regular maintenance is required for all Automatic Doors. The door should be inspected every six months to ensure that it is in a proper working condition.
Electrical installation legislation and standards
The electrical design should follow the agreed standards. Adjacent to the door and isolator should be provided. A 30mARCD should be used to protect the electrical supply.
Programming the door
The door should open just in time for people to pass. The positioning of manual activation systems such as push switches should be practical such that they do not block users or cause accidents.
Safety Control Systems
Safety measures should be put in place so that in case of a mishap occurs the door is in a safe position. Until a reset is done, an emergency door stop should be able to stop the movement of the door. Additionally, the should reverse direction or stop when a safety sensor is activated. Within 30 seconds a presence sensor should be able to detect stationary or slow moving traffic.
Maximum Static Force and Speed
The maximum static force and speed are regulated by the drive control system. The drive control system should be modifiable to allow the door movement to regulate the maximum kinetic energy being meted out.