Automatic Doors and Disabled Access
Posted by:
Admin
Tags:
Posted date:
31-01-2019
As the owner of a public access building, you need to think about the disabled access options you provide. This includes how disabled people will manage to operate manual doors. With the help of A & T Doors we will go through the process of fitting sliding or swing doors to your premises.
What are the different types of automatic door available?
When you are planning your disabled access, you will have many things you need to consider. These will include the choice between automatic and manual doors. Below is all the information that you need, valid for both companies and individuals alike.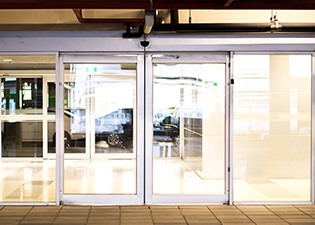 Automatic Sliding Doors
Automatic sliding doors will slide open with ease and without the need for any manual intervention. These doors can be single or double, and they will slide behind the wall or glazed sidelight next to the door. This type of automatic door is kept in place through the use of floor guides and is typically hung by door gearing found above the door.
You should choose automatic doors if you have high volumes of foot traffic on a daily basis. You can find examples of such doors that open when people go in and out at any supermarket, airport, hospital, or retail park.
You will be met with a wide variety of different types of automatic sliding door. Choose from frameless glass doors to standard framed doors. For heightened security, choose doors that have been tested and have passed Burglar Resistance Testing. Also, think about the value you require for your doors and shop accordingly.
Automatic Swing Doors
Swing doors that are automated are another ideal solution for heavy traffic areas. Swing doors provide a welcoming environment that somehow feels less clinical. They also help when it comes to keeping down your energy bills.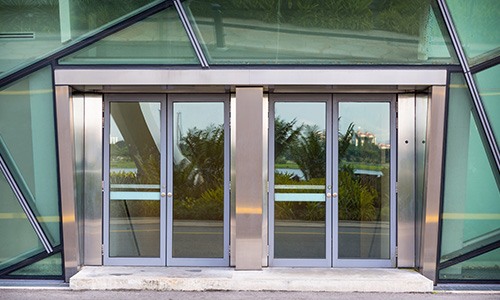 One of the advantages of choosing this type of system is that door openers can be fitted to existing manual doors. This, in turn, means that you will pay a very competitive price for your auto doors and you won't have to replace them. A simple modification to your manual swing doors can convert them into doors that swing open automatically.
If you have restricted space outside or inside your doors, a pivoting system can provide a solution that takes up less space. These automatic doors will pivot when they open, taking up less space than a typical swing door system.
Whichever system you choose, you will have a lot of different options and features to choose from. These will include doors for fire escapes, doors that are used as part of a security system, and fire doors. All types of doors can be adapted to become automatic, and controlled by infrared sensors or remote control.
Finally, you may consider a revolving automatic door for your premise. These, however, require more specialist construction that puts up the overall price considerably. For your public access commercial premise sliding or swing, automatic doors provide affordable and attractive solutions.