Automatic Door Systems
At A & T Doors, we are proud to offer a one-stop experience for all of our customer's entrance needs. We follow through from your initial inquiry, all the way to your complete and fully satisfactory installation. While servicing each customer, we can guarantee a first-class service, ensuring that every customer has their automatic door needs met and beyond. Call today to discuss your automatic door systems.
We professionally fit and supply a wide variety of Automatic Sliding Doors in Bedworth and throughout Warwickshire for commercial and industrial clients.
We are specialists in designing and installing:
Sliding Doors

Swinging Doors

Revolving Doors

Balanced Doors

Telescopic Doors

Bi-Folding Doors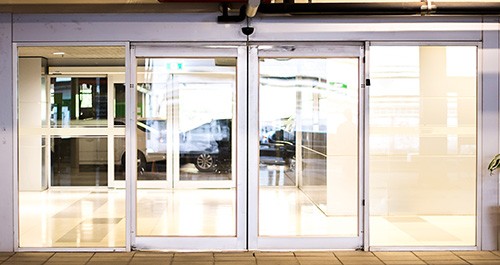 A & T Doors proudly offers an extensive experience, including the design and the installation of all automatic doors for a diverse range of needs. A & T Doors is capable of meeting the needs of every automatic door installation. This could include but is not limited to: public buildings, private businesses, and educational establishment.
Business
Offices
Factories
Laboratories
Corporate Headquarters
Education
Schools
Colleges
Universities
Nurseries
Healthcare
Hospitals
Care Homes
Clinics
Surgeries
Do you need advice about your automatic door systems? Our company also has experience in the premium design of high-quality stainless steel finished automatic door entrances. All of our style options have their own benefits. We are able to offer guidance for every situation, no matter your requirements. We also offer free site surveys and free access to audits to our customers.